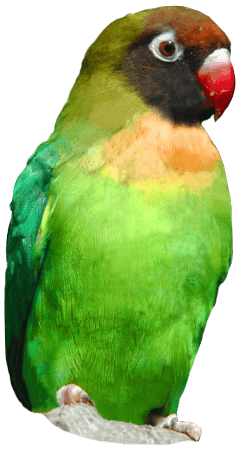 Little Boy All Grown Up This Fathers' Day
Drusillas Park's Head Keeper, Mark Kenward couldn't be prouder this Fathers Day as he spends it alongside Little Boy, the squirrel monkey he hand reared twelve years ago.
Born on 31 March 2003, Little Boy was abandoned by his mother just a few days later. Concerned for his welfare, Mark stepped in to hand rear the youngster feeding him every two hours in the early days.
Mark commented: "It was tough in the beginning with feeds throughout the day and night, much like a human baby. He was fed baby formula and had a cuddly toy which he clung to in the absence of a parent. He came to work with me in the day and home with me in the evening."
"Over the first twelve weeks the feeds gradually reduced until I was able to leave him at the zoo overnight before finally reintroducing him to the group several months later. Luckily, they accepted him back and I believe the speed in which we were able to get him settled was paramount in helping him develop into a well-rounded monkey. There is always a slight concern whenever a monkey has been hand reared but Little Boy is very well adjusted."
Despite his rocky start, Little Boy has gone on to thrive and is now the dominant male in Drusillas Park's group of 14 squirrel monkeys, fathering no less than six bouncing babies of his own.
Mark commented: "He is a fantastic leader. He interacts with the youngsters in the group well and takes his role of protecting them very seriously. He still likes human attention; he will always jump on me if I go in the enclosure and call out if I have not acknowledged him. However, he loves being with the group and despite his difficult start, has become a great dad."
"It's a real joy to have watched Little Boy grow into the individual he has become. When an amazing animal like Little Boy is as pleased to see you in the morning as you are to see him it's an incredible feeling, especially when that animal has been hand reared by you. It creates a strong bond between you, which is comparable to that of fatherhood."
"I would be devastated if he ever left Drusillas but if he did, I would take pride in the fact that Little Boy is all grown up."
Back to listing