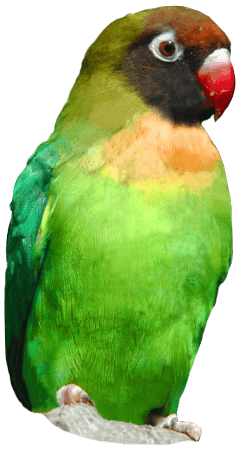 11 ways Drusillas makes your day out more accessible
We understand the importance of all our visitors feeling safe and comfortable in their surroundings, and aim to provide a warm welcome and the highest of standards to everyone who visits us.
We continue to work on making Drusillas as accessible and inclusive as possible for all, and have put a number of facilities in place to help take the stress out of a Drusillas day for our SEND visitors.
Here are 11 things you might not know we offer:
1. Free carer's tickets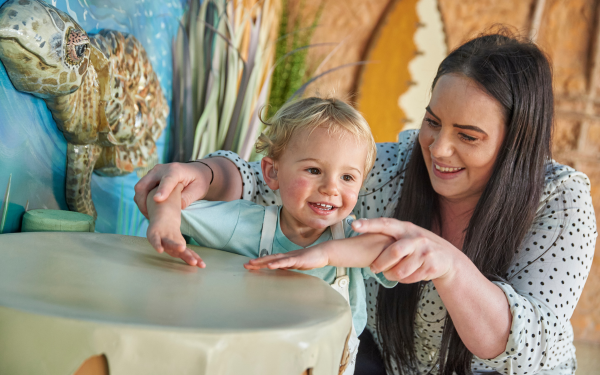 To make sure you have the support you need for your day, we offer paying visitors (who receive DLA, PiP, ESA, or Attendance Allowance or who hold a an Essential Companion Access Card) one accompanying carer free of charge. Free carers don't need to be booked in advance, we just ask that you bring along evidence of support payments (a letter or screenshot on your phone) or the Access Card with you on the day of your visit dated within the last 2 years. You are still welcome to take advantage of our 20% online advance ticket discount for your paid tickets, and accompanying carers are also welcome free of charge in SPARK. We also offer Disabled + Carer Annual Memberships offering an unnamed free carer with every visit for the whole year.
2. Accessible Rides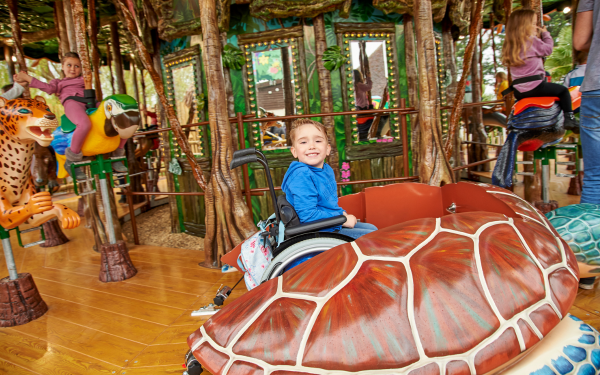 Rides are a big highlight for many of our visitors, and we have wheelchair accessible carriages on both our Rainforest Carousel and Safari Express Train. Just let one of our team members know you'd like to ride and they'll arrange access for you - plus, unlimited rides are included in your entrance fee, so you can ride again and again all day! Our ride operators are always happy to assist disabled visitors accessing any of our rides as long as the user fits the health and safety requirements, so feel free to ask!
3. Ride Access Passes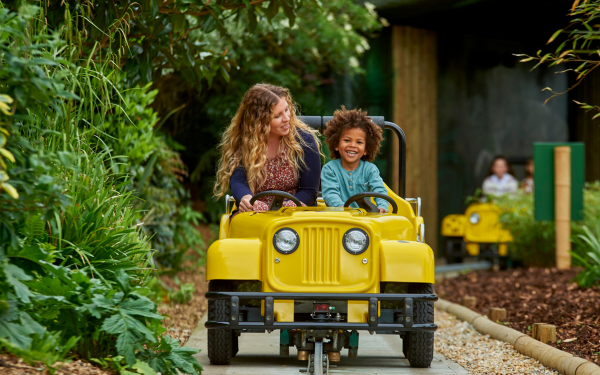 We don't often have long queues for our rides, but know that even a short wait can be difficult for some of our visitors. We are happy to provide free Ride Access Passes for those that find queueing difficult, which allow up to 4 people in your party access to our rides from the exit side without waiting too long. Ride Access Passes are also valid for one special event queue jump, such as character event days and meeting Santa. Just pop into our Visitor Services Office at the start of your day to request your free Ride Access Pass.
4. Sunflower Lanyards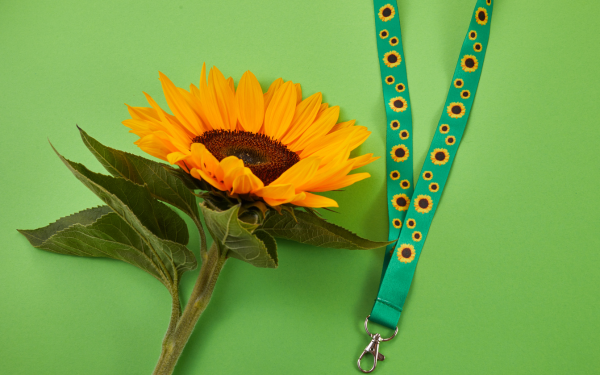 We offer free Sunflower Lanyards to visitors who would like to let our team know they may need a little more time, help, or support whilst exploring the Park. Pop into our Visitor Services Office to pick up your free Sunflower Lanyard when you arrive.
5. Changing Places Facility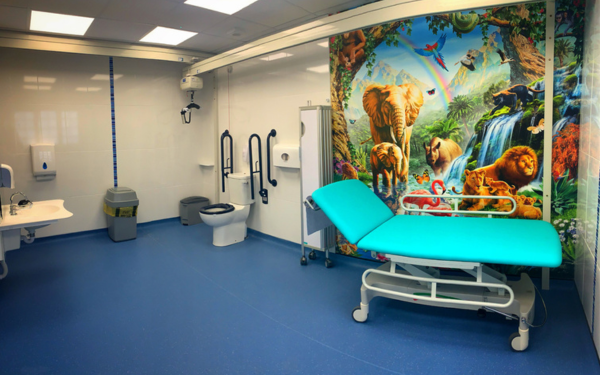 We offer a modern accessible toilet and changing facility, located in the Go Wild! area of the zoo, next to our soft play complex, Amazon Adventure. Changing Places has more space and specialised equipment, including a height adjustable changing bench and a hoist. We also have numerous disabled toilets located around the Park; at the main entrance, opposite Go Safari!, in our Go Wild! play area, and in Explorers Café.
6. SEND sessions in SPARK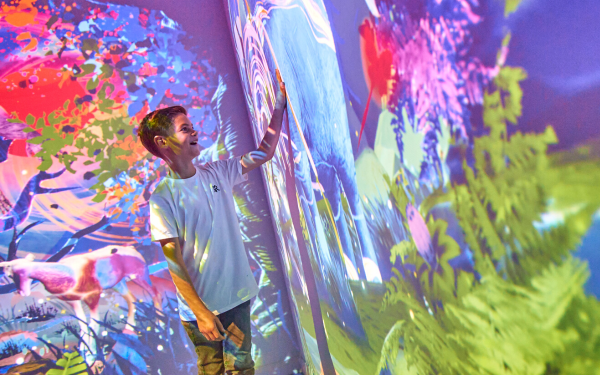 SPARK is our state-of-the-art interactive sensory room, and we've reserved the first session (10.30am) each day SPARK is open for SEND visitors and their families, including on weekends and school holidays. We reduce capacity and lower the sound levels during this session to ensure a calm and magical experience for all. SPARK is an optional attraction and additional tickets are required. Siblings are welcome to book to join, and accompanying carers and under 2s can book a free ticket (with relevant evidence provided).
7. Wheelchair friendly paths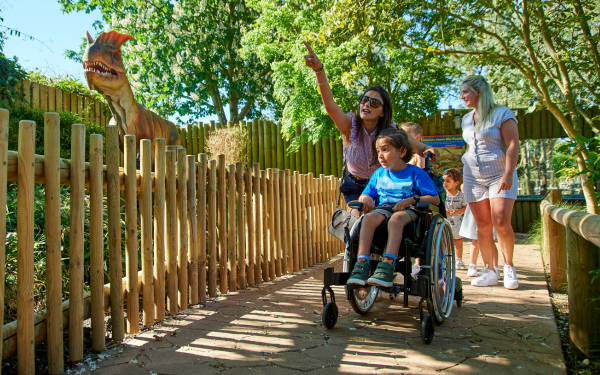 All our visitors can enjoy the whole Park as Drusillas is completely wheelchair accessible, with flat surfaces and ramps. Our zoo route is approximately one mile in length with ample resting places along the way. Wheelchairs are available to hire on request, for a £20 refundable cash deposit. Please pop into the Visitor Services Office when you arrive to arrange hire.
8. Visibility and Viewing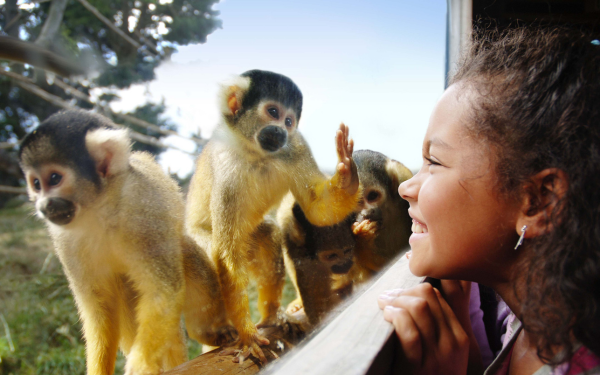 We have large directional signs to follow all the way around the Park and our signage is designed in contrasting colours, well maintained, and plentiful. You won't miss any of the cuteness around the zoo, as our animal enclosures have low-level viewing suitable for those in wheelchairs. We also have hearing induction loops fitted to all our four admission gates.
9. Seating in our picnic area and restaurant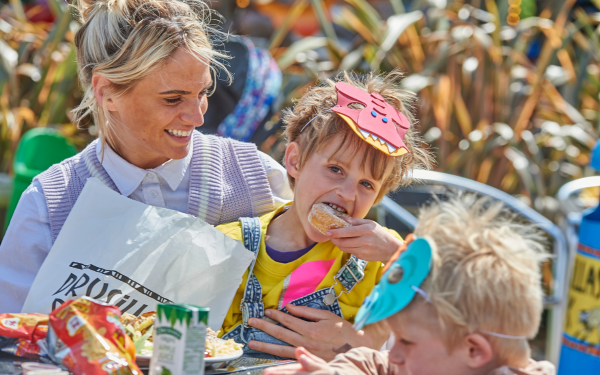 Whether you are bringing a picnic or buying something tasty from one of our restaurants, we have spaces to sit and enjoy with several wheelchair accessible benches in our a designated picnic area and fixed accessible seating in Oasis Café.
10. Trained and Friendly Staff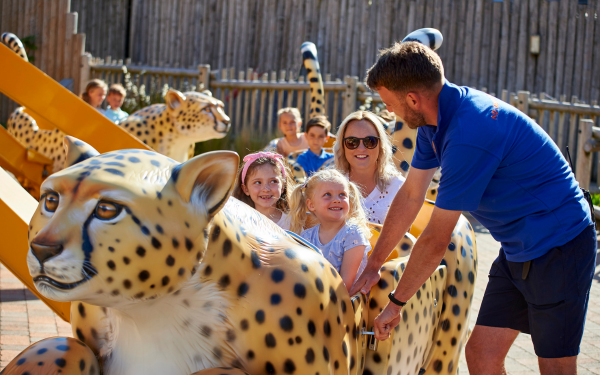 We are lucky enough to have an incredible team here, who always go out of their way to make everyone's day special, so if you need anything at all to make your day easier always ask. Many of our key staff have attended Welcome All training on autism awareness and inclusivity, and we receive wonderful feedback about how friendly and helpful our team are all the time!
11. Accessible and Inclusive Tourism Award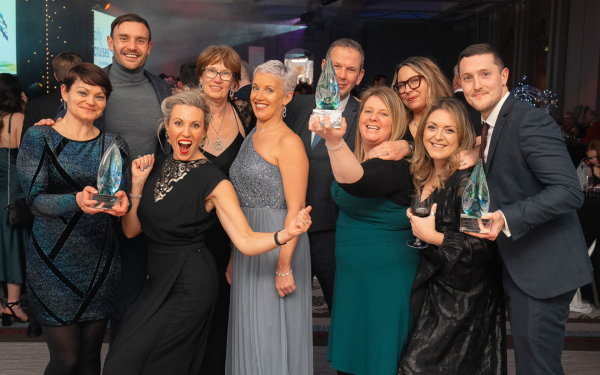 We were SO proud to be awarded a silver Beautiful South Tourism Award in the Accessible and Inclusive category in December 2022. The judging panel commented that we have:
Taken time and effort to make the attraction as accessible, and welcoming to all no matter what their ability
Provided a stress free and safe environment for families with young children and those with SEND
Welcoming, knowledgeable, informed staff who have been trained to assist and understand people with different needs and abilities
Provided reassurance and confidence for parents and organisations with SEND that visitors will be well catered for no matter the circumstance
We are committed to continuing to improve our accessibility and inclusivity at the Park, and welcome feedback from our visitors on any changes we could make to provide a special day out for all.
Back to listing