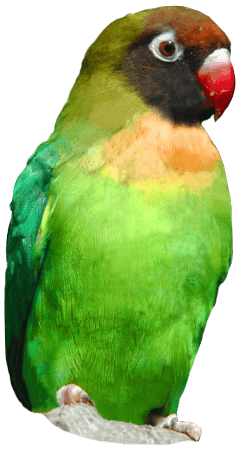 Drusillas becomes second zoo in UK to house rare species
PUBLISHED 04/10/23
Drusillas has become the second collection in the UK to hold a rare and remarkable species: a pair of yellow-throated martens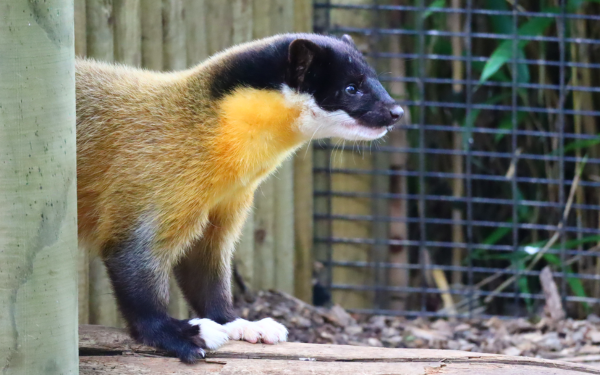 With just four of the species in the whole country, the magnificent marten duo makes up half the British population of these strikingly beautiful animals.
With just 40 pairs of yellow-throated martens in Europe, the Zoo is overjoyed to be able to give visitors the chance to get nose to nose with these unique creatures. If you haven't heard of them, martens are part of a family of mammals called mustelids, which also includes their 'cousins' badgers, otters, and weasels. Their fur ranges from dark-brown to yellow-brown, and they have a stunning bright yellow throat, hence the name!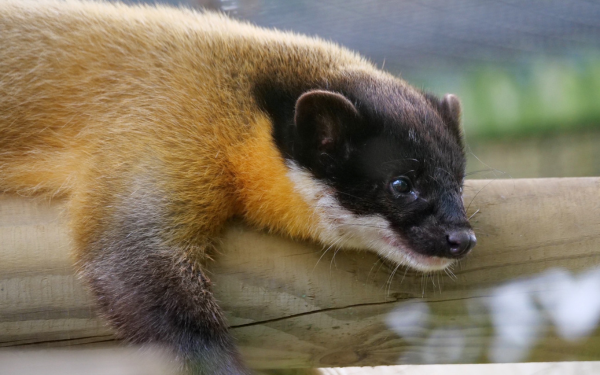 Photo: Mandy E Photography
Drusillas marvellous marten pair, Niko and Sasha, are 'settling in very well' according to the zoo's keeper team. The cute couple have been making themselves at home in their brand new enclosure, showing off their smarts by solving food puzzles and exploring various enrichment toys on offer, and scoffing their favourite gourmet snack: frog legs.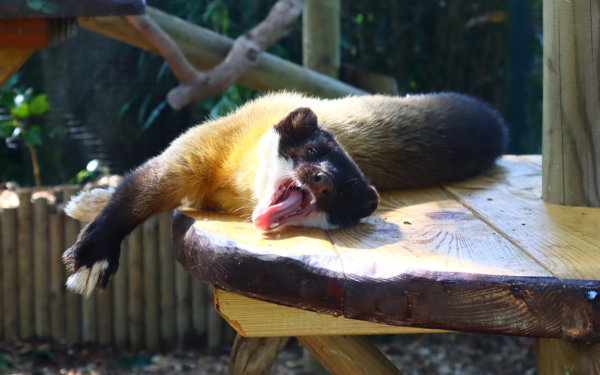 The opportunity to work with the yellow-throated martens was a real 'bucket list' moment for Zoo Animal Manager Mark Kenward, who says: "Being able to work with this incredible species is a career high from my point of view. These are two of just four in the whole of the UK. Many Zookeepers will never have this chance, so it's a real 'pinch me' moment to be part of the team looking after Niko and Sasha."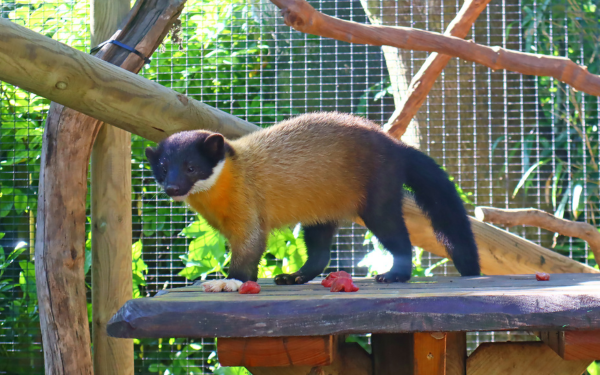 "Both of the martens are very interactive with keepers and have very individual personalities. Sasha is very confident and playful with her food, you can spot her throwing things around and having a whale of a time! Niko is a lot more laid back and quite reserved, but they both really enjoy the enrichment that we give and are good puzzle solvers, we love dreaming up activities to keep them busy."
"With just 40 pairs of yellow-throated martens in Europe it's very special to have this species at Drusillas and a real privilege. We're really excited for our visitors to be able to 'meet' this incredible pair of unique animals that you won't see at most zoos."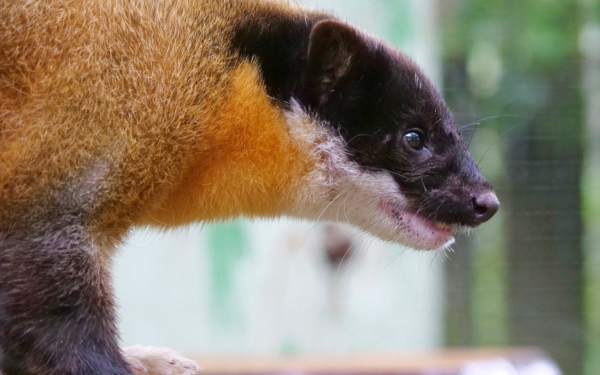 Photo: Mandy E Photography
In the wild, yellow-throated martens live throughout southern and eastern Asia, mostly found in forests, but also on mountains and in swamps. They mainly feed on small mammals, birds, snakes, lizards, insects, and fruit. Niko and Sasha are quite the 'foodies' and enjoy nothing more than chowing down on their favourite frog legs, fresh fruits, sweet potato, and pine nuts.
The species usually live in pairs or small groups and can have up to five babies at a time. They breed annually, either between February and March, or June and August, and are pregnant for between 220 and 290 days. So, keep your fingers crossed for the pitter patter of tiny paws!
Visitors keen to meet the miraculous martens will find their enclosure mid-way along the zoo route, near the capybara and flamingo enclosures. Make sure you don't miss your chance to see these rare new arrivals as they settle into their new habitat.
Back to listing