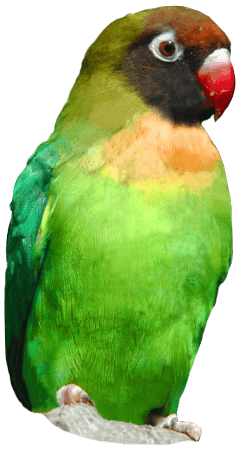 PUBLISHED 09/06/22
What to do if spider season has you caught in a web of fear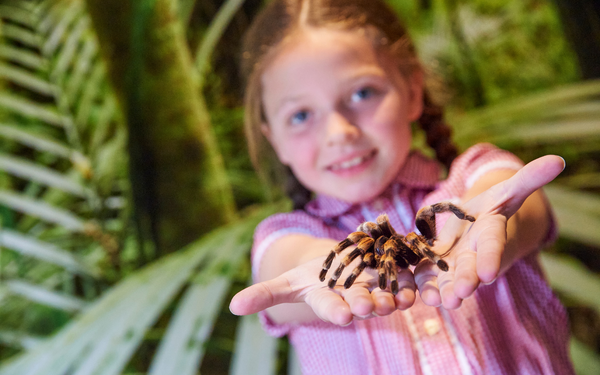 As the warmer weather arrives, so does the inevitable influx of eight legged visitors, as the UK enters the much-maligned spider season. At Drusillas Zoo Park in Sussex however, it's an exciting time of year, as 'Spiderwoman' Angela Hale and her husband, Ray - both of the British Tarantula Society - prepare to deliver a number of unusual, life-changing courses that confront spider phobia and can cure someone of their fear once and for all.
As we approach the summer, there's a good chance you'll start seeing a lot more spiders in and around your home, in particular lots of baby spiders around at the moment, as garden spider egg sacks will have just hatched. The weather is warming now so insects are breeding like crazy, meaning there is a very rich food source for spiders, so they are able to thrive.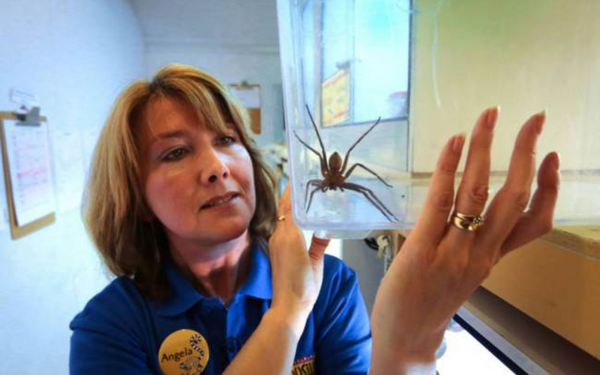 Lovingly known as "Tarangela" amongst her colleagues, Angela knows almost all there is to know about arachnids. Having recently retired from full time employment at Drusillas after 22 years, she now concentrates on studying and identifying our native eight-legged friends and she even boasts a collection of over 100 spiders at home in her spare bedroom!
Ray commented: "It's spider season again and as the days get longer it seems everyone thinks that spiders get bigger. In reality they are no bigger than last year it's just that having not seen them during the winter months we all jump when we see one. Although for me it's a jump for joy! Why? Because spiders are our friends and do an amazing job at ridding us of those annoying flies that buzz around our heads and help to protect our much-needed crops against insects intent on munching it all."
Angela commented: "Even as a child I loved spiders. They have fascinated me for over thirty years. Something some people find strange is that I'm a woman. They are often surprised and ask if I go on expeditions to Borneo with my husband and do I look for spiders? The truth is that I lead the expeditions and I'm often the first one into a cave or a rainforest to find them. I have found a number of new species and cannot wait to get back out there"
Angela continued: "Here in the UK we have over 800 different types of spiders, none of which are dangerous to humans. On the contrary, spiders are actually extremely helpful and harmless creatures, but despite this fact, they instil fear in many and have a terrible reputation."
"What people don't always realise is that spiders are an integral part of the ecosystem and are working to help us. These little wonders consume countless crop-destroying, disease-carrying insects annually, saving both livelihoods and lives."
"There is no good reason to be afraid of them. The vast majority of the world's spiders are harmless and extremely beneficial invertebrates. There are no dangerous spiders in the UK. Even the big spiders such as tarantulas don't want to hurt you. They are very docile and quite friendly if you give them a chance."
However millions of perfectly rational people have an irrational fear. But do spiders deserve such a wicked reputation? Drusillas want to change that reputation and as such, in partnership with Angela and Ray, have developed a four-hour course that aims to assist the arachnophobe to not only overcome their fears, but to leave with a better understanding of these misunderstood creatures.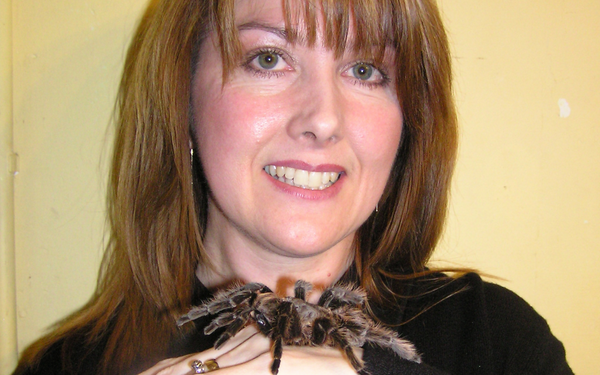 Throughout the day participants will learn all about spider biology and behaviour, be taught how to face their fears, and even handle some new spider friends. The day is managed under very calm, controlled conditions, and with experts on hand at all times.
Angela Hale continued: "We've held many spider phobia courses in the past and we see such wonderful results; everyone that attends leaves their phobia at the door and goes home feeling much more confident and less afraid. It can be hard for people, especially those who are terrified, but the more time you spend in a spider's company the more you realise there really isn't anything to be afraid of. It's just Hollywood that's made them scary!"
"If you do find an unwanted guest, please bear in mind the wonderful work they do. Take the time to remove it humanely by gently placing a glass over the spider, then carefully pushing a piece of paper underneath; you can then move it outside and let it go."
The courses will run on various dates between July and October at Drusillas Zoo Park. To find out visit www.drusillas.co.uk/spider-phobia-course.
Back to listing