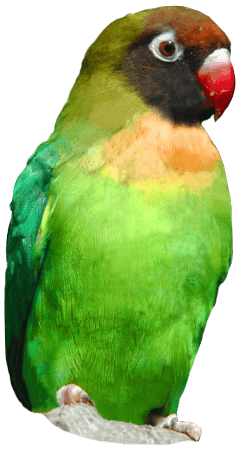 Touching moment Zoo Keeper is reunited with monkey after years apart
After spending years apart, Tambo, the Sulawesi black crested macaque, and his former keeper Jodie Dryden were reunited at Drusillas Park on Thursday 14th September.
Previously an employee at Drusillas Park, Jodie helped to raise Tambo from birth and played a huge role in the first four years of the little monkey's life. As a primate specialist, Jodie was keen to be an active part in Tambo's upbringing, and the pair formed a tight bond after spending many hours in each other's company.
Jodie Dryden said: "I can remember waiting for him to be born, I had it all plotted out on a little graph. I couldn't wait for him to get here; it was a really special moment when we welcomed him to the world."
Over the years Jodie worked closely with Tambo and the other Sulawesi black crested macaques at Drusillas Park, dedicating her time to learning about and caring for this critically endangered species.
However, Jodie made the decision to move back home to Dudley to be closer to her family and friends in 2015, and took on a whole new family of macaques as Senior Primate Keeper at Dudley Zoo.
Now 6 years-old and officially an adolescent, Tambo is ready to start a family of his own. As his father, Moteck, is currently the dominant breeding male in their family group, Tambo needs to move on and discover his own bevvy of women.
Keepers at Drusillas Park are sad to see Tambo go, but as he is rapidly approaching maturity the time has come for him to progress to the next stage of his life. In the wild, small groups of Sulawesi black crested macaques have only one adult male, and he is usually heavily outnumbered by females. Once they reach maturity, young males are forced to break out on their own and leave their family group. This process is mimicked by breeding programmes all over the world, to ensure the survival of the species and keep their living conditions as close to how they would be in the wild as possible.
Thinking carefully about where to send Tambo, an idea sprung into the minds of keepers at Drusillas Park. Not only had Dudley zoo had recently invested in a state-of-the-art macaque enclosure, but there was also a familiar face heading up their primate section.
Luckily, Dudley had space in their enclosure, and Jodie was ecstatic at the prospect of being reunited with Tambo. So, after some careful planning, it was arranged for Tambo to transfer back into Jodie's care.
Arriving at 10am on Thursday 14th September, Jodie was buzzing with excitement to see her former charge.
Jodie said: "It's so wonderful to see him again after a few years! It's great to see him as a healthy happy adolescent. I can't wait to have him living back with me in Dudley. I'm not sure I want to see him mate though, he's still a baby to me! I'll have to shield my eyes when it happens, I feel like protective mother watching her little one run off with a girl!"
"It's amazing to be part of Tambo's adventure, and I am so grateful that I have another opportunity to be part of his life."
Assisting with the transfer is Drusillas' Deputy Head Keeper, Sophie Leadbitter. Sophie commented: "We are really sad to see Tambo go, but he's going to be in the best hands. Jodie is mad about Sulawesi black crested macaques, she has been out to study them in the wild and is an ambassador for Selematkan Yaki – a conservation and research programme dedicated to saving the species."
"He's going to be so well looked after, and he is going to be really thrilled to see Jodie again. He will definitely recognise her; it will be a really heart-warming and special moment when they see each other again after all this time."
Drusillas wishes Tambo the best of luck at his new home, and will be keeping track of his progress. Both zoos are hopeful that the plucky fella is a hit it with his new ladies, and fathers some beautiful offspring in the not too distant future.
Back to listing