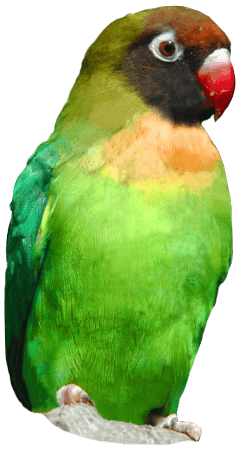 Who is on the Zoo Naughty and Nice List this year?
PUBLISHED 16/12/22
As the final festive flourishes are added to Christmas preparations around the globe, Drusillas have been debating which of their animals in the Zoo have made it onto Santa Paws' nice list this year… and those who may be faced with coal in their little stockings!
Like all parents, keepers have to keep their furry children's behaviour regularly in check, with most of the animal residents securing themselves a spot in the good books all year round. But, they've reported that some of the animal's cheeky ways just can't be overlooked, so it's the naughty list for them!
Drusillas have now released their official animal naughty and nice list for Christmas 2022, from naughtiest to nicest – do you agree with the decisions, or should they be forgiven?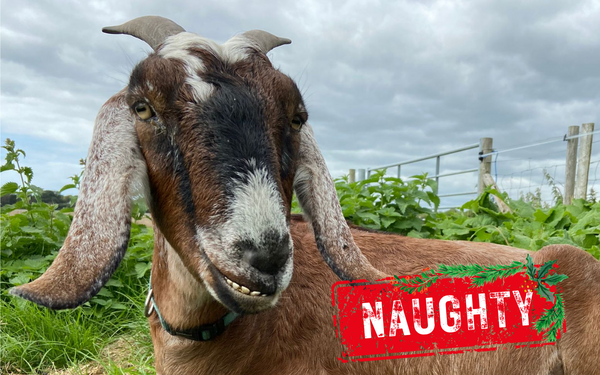 Flora the Anglo Nubian Goat: Top of the naughty list this year is the animal with a crooked smile and wicked ways! Don't be fooled by Flora's goofy expression and love of affection from visitors - she's quite the meany when it comes to the team of keepers. Despite keepers trying many different methods to pop her head collar on to take her back to the fields each day when the Zoo closes, Flora has developed a hobby of headbutting anything and everything in sight, every single time, whether that be walls, gates or keeper's knees!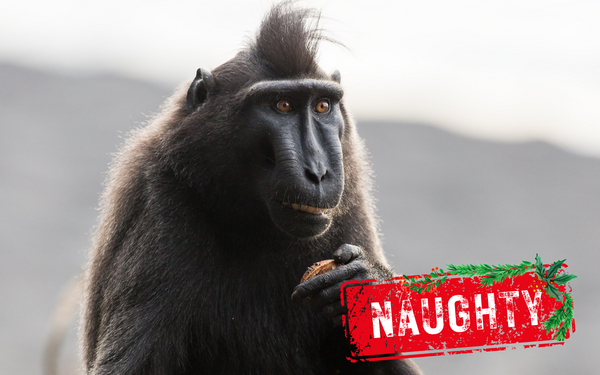 Lintang the Sulawesi Crested Black Macaque: Coming in a close second is a resident who recently celebrated one year at the Zoo, and has wasted no time making an impression. Fiesty lady Lintang has developed a little game whenever the keepers need to be in her enclosure in the form of loudly and suddenly banging on the hatch door to give them a fright and make them jump. It seems she enjoys the thrill of giving people a scare, and isn't showing signs of stopping any time soon!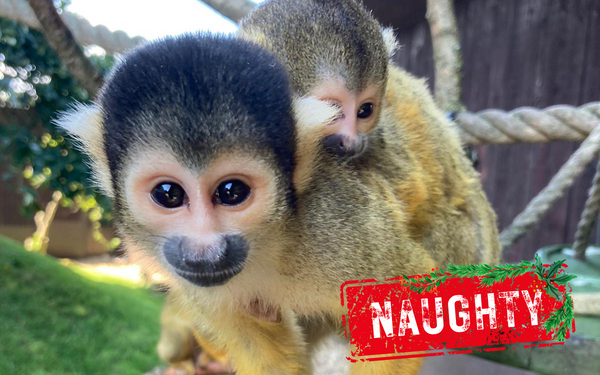 Plum the Squirrel Monkey: She might look like butter wouldn't melt, but Plum has well and truly earned her place on the naughty podium this year. Squirrel monkeys are known for being mischevious creatures, but Plum takes things to a whole new level bringing absolute chaos everywhere she goes. Stealing shoelaces, throwing food around, refusing to go to bed, and winding up her siblings are just a few of the skills in her repertoire of wrongdoings. Her only saving grace is how sweet a first time mama she has proven to be, otherwise she might have been first place!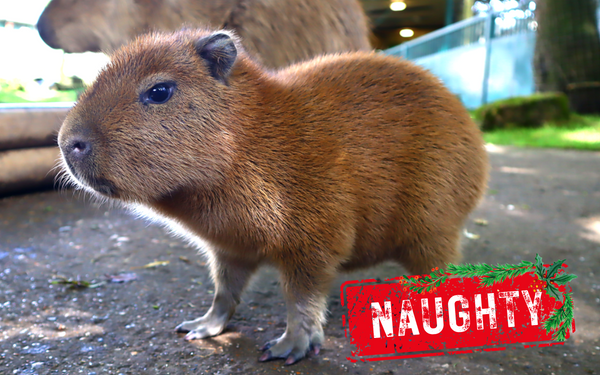 Satsuma the Capybara: She might be the youngest on our list at just six months old, AND an international social media superstar, but baby Satsuma is getting a little too big for her boots (maybe the fame has gone to her head!). She has deveoped a penchant for stealing all the best snacks from her mum, dad, and the beavers she lives with, and when visitors come to see her she's got so confident she's starting jumping on laps to make sure she's first in line for food! Hard to stay too mad at this little greedy guts though, because just look at her...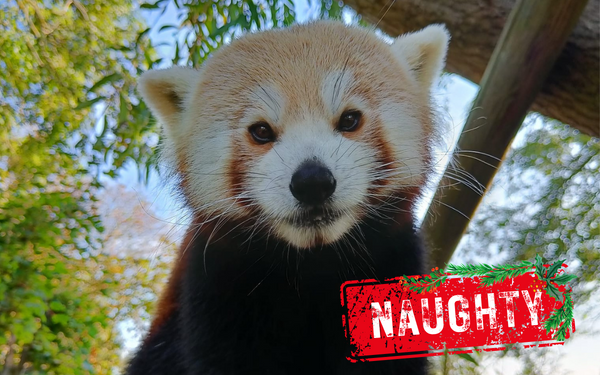 Maja the Red Panda: Sometimes, just sometimes, you end up on the naughty list despite your best efforts, and this is the case for handsome boy Maja. A favourite among visitors, Maja can mostly be seen snuggled up in the trees looking adorable, but when it comes to keeper cleaning times he's far from calm and sweet. Keepers have reported that Maja just will not leave them alone when they're trying to do their chores, getting his big furry nose in everything, clambering over them, and making the job take twice as long. We'd like to think he means well and maybe he thinks he's helping, but for now it's the naughty list for adding to the workload!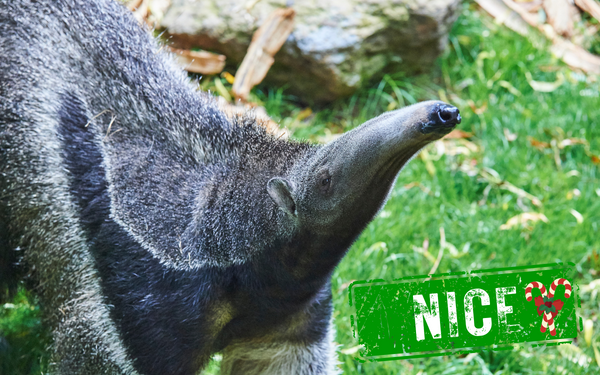 Raya the Giant Anteater: A real gentle giant, the lovely Raya goes into 2023 with a perfect record of good behaviour. Absolute sweetie Raya never gives anyone any trouble, always does as she's supposed to, and keepers know if they're looking after Raya for the day things are going to be lovely and breezy. An easy choice for this year's nice list!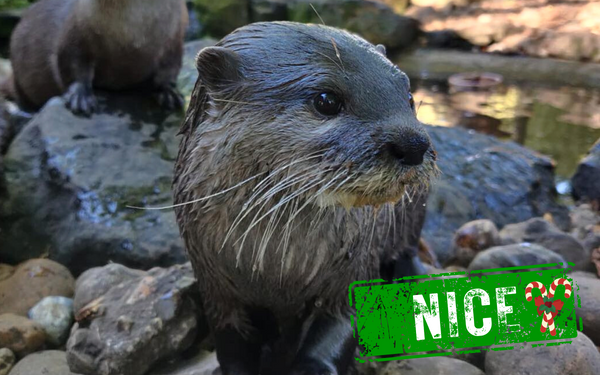 Cheddar the Asian Short-Clawed Otter: Devoted daddy Cheddar was an easy addition to this year's nice list as he has proven himself once again to be the sweetest father to his boisterous clan! He is the epitome of hands-on parent, spending time with each of his kids either teaching them life skills, or playing around in the otter pool. He always makes sure everyone is looked after, and the keepers are so proud of him.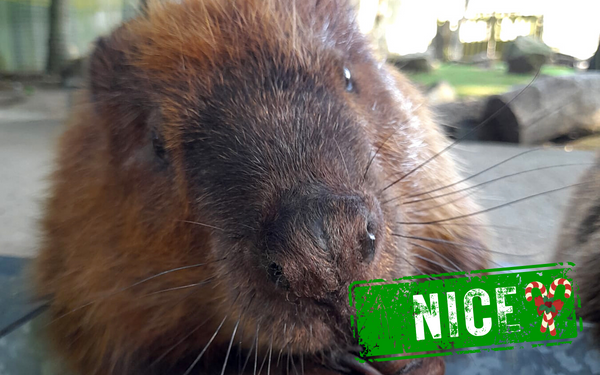 Jasper the North American Beaver: Gentleman Jasper earns a firm place on the nice list this year, as he always brightens everyone's day with his polite, sweet manner and gentle ways. This houseproud boy is also careful to look after his enclosure, helping to stack all the loose twigs and branches into a nice neat pile so the keepers never have to tidy up - and he does it all with his special little 'swagger walk' which is impossible not to smile at!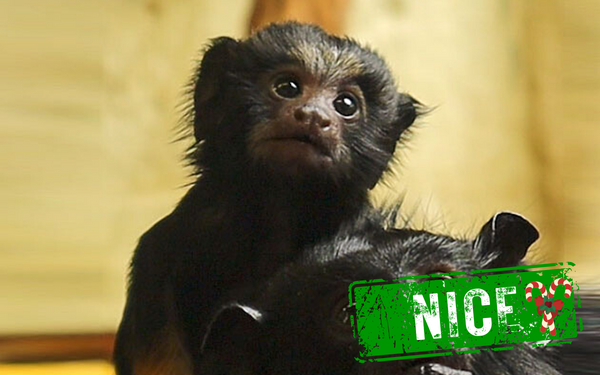 Bowie the Red Handed Tamarin: Beautiful little rainbow baby, Bowie, has melted everyone's hearts at the Zoo since arriving in this world just six months ago. Those irresistible eyes and adorably curious nature, teamed with a relentlessly positive and playful spirit make Bowie an easy addition to this year's nice list - we're sure Santa will be spoiling Bowie on Christmas morning!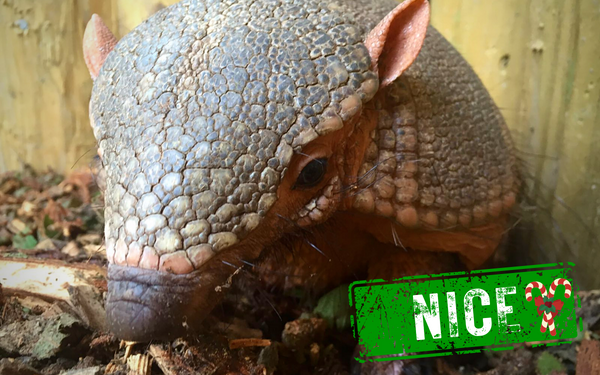 Gretal the Hairy Armadillo: There was just no question about who would be top of the nice list this year, it had to go to the one and only Gretal. Gretal plays the starring role in the Zoo's education sessions, meeting thousands of curious children each year, and she is always patient and gentle when teaching them about our natural world - plus, she let's them give her tickles! Gretal has also proven herself to be a friend to everyone, no matter the species, making animal introductions easy peasy for keepers. This year she has become besties with the Zoo's group of rock hyrax and dwarf mongooses, and whenever she visits them she always manages to find herself in the middle of a big cuddle pile. Never change Gretal, our nicest of the nice!
Back to listing