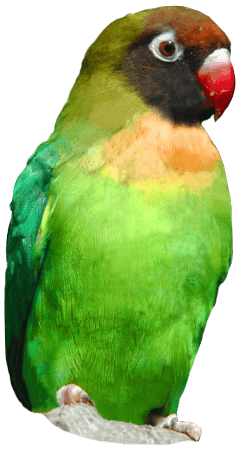 Valentine Adoptions Go Wild at Drusillas!
Drusillas Park in East Sussex has noticed a significant increase in the number of enquiries regarding animal adoptions in the last two weeks ahead of Valentine's Day.
Secretary, Angela Hale has received an unprecedented number of calls from members of the public, desperate to find an unusual gift for their loved ones, in time for February 14.
Angela commented: "There is a lot of pressure on people to find a thoughtful and relevant present for the special someone in their life and I guess an animal adoption is pretty unique."
"By far, our most popular Valentine's adoption is a black-cheeked lovebird as you may expect. Black-cheeked lovebirds are part of the parrot family. They get their name from the strong bond male and female pairs form. They mate for life and spend lots of time preening each others' feathers, which I think the romantics out there really like. They are also Africa's most endangered parrot, so are incredibly precious."
However, it's not just the lovebirds that are available for annual adoption. Any of the animals at Drusillas can be adopted and the income generated helps support the zoo's ongoing animal care and conservation programmes. Adopters receive a photo, a certificate signed by a Zoo Director, a plaque on or near the animal's enclosure and a complimentary ticket to visit the new member of the family.
Angela added: "The most amusing enquiry I took was a lady interested in adopting an animal for her husband. She was interested in our male sloth as she said these animals were a perfect representation of him – lazy, unusual looking but very lovable!"
Back to listing