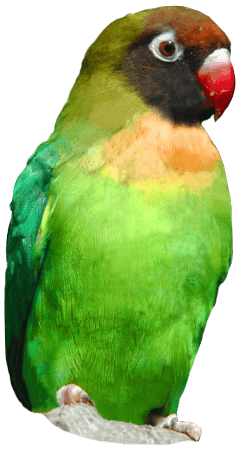 Life is Gourd for Animals Enjoying Halloween Pumpkins!
PUBLISHED 13/10/21
Lemurs, meerkats, beavers, capybaras and otters were among lucky animals treated to seasonal snacks this week in the form of Jack-o-lanterns.
We offered a pumpkin feast to some of our animal residents as part of the Zoo's enrichment programme this week – and decided to have a little Halloween fun at the same time.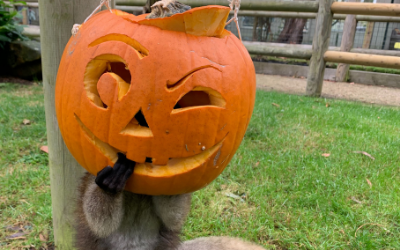 Tempting the lemurs to climb inside to create a 'giant head' illusion, and letting meerkats furiously dig tunnels through the sweet flesh were some of the creative ways the animals were offered additional stimulation for the day.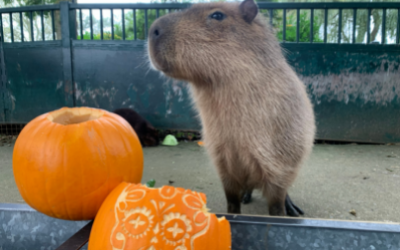 Zookeeper Jacinta Dawe commented
"It's really important for us to give our animals stimulation and enrichment, and they do get pumpkin as part of their natural diet anyway. Every day we try to mix it up and do a different form of enrichment for them whether it's scent enrichment such as different herbs and oils, or food based like today. So it might look like we're just having fun, but it's actually a really important part of our job to continue to offer new and interesting things to our animals."
We're gearing up for their annual Shriek Week event over half term, where visitors can enjoy a number of family-friendly Halloween themed attractions, such as their haunted house, creepy crawly encounters, freaky face painting and displays around the Park with hundreds of pumpkins.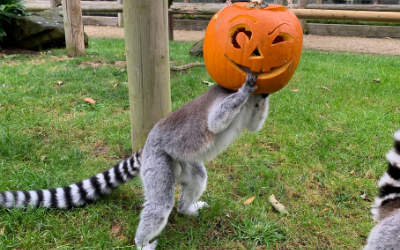 The decorations will not go to waste, as the leftovers will be offered up to many of our 800 exotic animals once the celebrations are over, so they can enjoy a fa-boo-lous time too!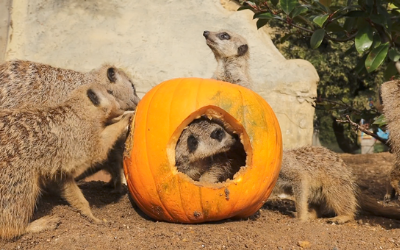 Drusillas Shriek Week runs from 23rd – 31st October and discounted tickets can be purchased in advance via our website https://www.drusillas.co.uk/halloween-activities-in-east-sussex
Back to listing